Beijing Resorts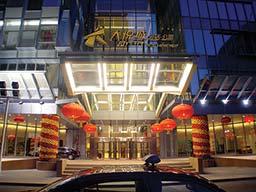 No. 131 North Xi Dan Avenue
Beijing, China
Joy City Hotel & Apartment Beijing is centrally located in the Xicheng district, close to Chang'an and Finance avenues, the Forbidden City, and Beihai Park. It is about half an hour's walk from Tiananmen Square. The property includes a variety of restaurants and a shopping mall. The hotel offers a health club with a large heated swimming pool, spa, sauna, and a high-end fitness center. These comprehensive amenities make Joy City Hotel & Apartment Beijing an ideal place for leisure, wellness, and entertainment. Interval members will be accommodated in One Bedroom Junior Suites. Breakfast is included.
more
B 810 Hanwei Plaza
Beijing (chaoyang District), 100004 China
Absolute Private Residence Club At Jinqiao
Beijing (chong Wen District), 100062 China
Located in the heart of Beijing, five blocks from Tiananmen Square, Absolute Private Residence Club at Jinqiao lets vacationers experience modern China with ease. Resort amenities range from restaurants and bars (Chinese and Western) to live entertainment and a fully equipped gym. The Forbidden City and the Temple of Heaven are in close proximity, as are several major shopping centers.
more
(Rows 1-3 of 3) First | Previous | Next | Last