Cave Creek Resorts
7887 E. Princess Boulevard
Scottsdale, AZ, 852555803 United States of America
Scottsdale Villa Mirage is an oasis located in the middle of the desert. The surrounding landscape is painted in unimaginable colors by the rising and setting sun. Each accommodation offers cable television, a DVD player, fully equipped kitchen (most accommodations), washer and dryer, whirlpool tub, fireplace, and patio or balcony. Tennis courts, two hot tubs, a swimming pool, and a new water playground provide ample opportunity for fun in the sun. Nearby are Jeep tours, hot-air balloon rides, world-class golfing, nightlife, and shopping.
more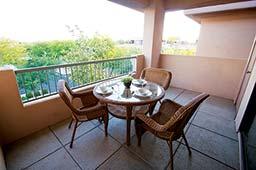 16858 North Perimeter Drive
Scottsdale, AZ, 852601008 United States of America
Nestled between the TPC Desert Golf Course and the beautiful Fort McDowell Mountains, there are more than 100 championship courses within a 30-minute drive of Scottsdale Links Resort. Each of its elegantly appointed accommodations has its own living/dining room, full kitchen, and laundry facility. A heated swimming pool and hot tub is adjacent to the well-equipped Scottsdale Links Resort fitness center. The resort is conveniently located near numerous outdoor plazas and enclosed shopping malls.
more
(Rows 1-2 of 2) First | Previous | Next | Last