Clearwater Beach Resorts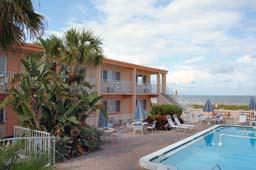 3420 Gulf Boulevard
Belleair Beach, FL, 337863645 United States of America
Nautical Watch Beach Resort, located directly on the Gulf of Mexico, is beautifully landscaped with Florida foliage. A sparkling pool, surrounded by buildings on three sides, faces the beach. Restaurants and shopping opportunities are nearby. Dinner cruises, museums, tennis courts, golf courses, greyhound racing, and Major League Baseball spring training are all within a short drive.
more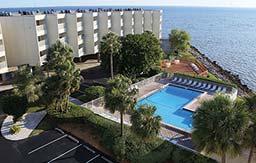 2506 Rocky Point Drive
Tampa, FL, 336071406 United States of America
Sailport Waterfront Suites on Tampa Bay is an all-suite, all waterfront property located only five minutes' drive from Tampa International Airport. Each suite has a full-sized kitchen and a private balcony that overlooks the bay. The resort offers complimentary amenities and services including parking, wireless Internet, coffee and pastries and a newspaper daily. It is conveniently situated near area attractions, sports and concert venues, and Gulf beaches. Guests can take advantage of courtesy shuttle transportation to the airport, local restaurants, and shopping malls.
more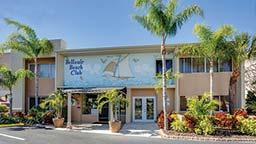 3200 Gulf Blvd
Belleair Beach, FL, 337863641 United States of America
Belleair Beach Club is located on the Gulf of Mexico in the small community of Belleair Beach. The resort offers a quiet and relaxing vacation with all the amenities of home. Guests can enjoy pristine white sands or cool off at a beachfront pool deck. Belleair Beach Club is 3 miles (5 kilometers) south of Clearwater Beach and is convenient to Tampa and St. Petersburg area attractions.
more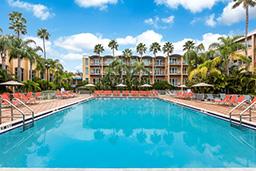 105 N. Bayshore Drive
Safety Harbor, FL, 346953124 United States of America
Safety Harbor All-Inclusive Resort and Spa was founded in 1925, and is known as a unique place where healing waters flow. Centrally located on the west coast of Florida, and nestled on 22 acres (9 hectares) of the Tampa Bay shore, the resort boasts a 50,000-square-foot (4,646 square meters) spa and fitness center. The beach and a range of outdoor activities, from golfing and fishing to boating and horseback riding, are available nearby. ALL-INCLUSIVE/MEAL-PLAN PURCHASE IS MANDATORY; IT MAY BE BASED ON A 7-NIGHT STAY AND MAXIMUM OCCUPANCY.
more
(Rows 1-4 of 4) First | Previous | Next | Last