Negril Resorts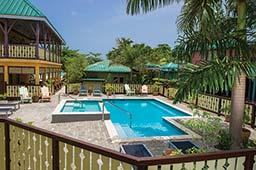 Norman Manley Blvd
Negril, Jamaica
Country Country Beach Cottages is a collection of individual cottages and one-bedroom units situated on both sides of the property, east and west of the main road. Accommodations have access to the Caribbean waters. Relax by the pool and on Seven Mile Beach with complimentary towels and lounges. Beachside dining is also available, as well as daily room service and taxis. The resort is in walking distance to restaurants, bars, and convenience stores, and guests can enjoy a variety of area activities - from golf and fishing to sailing and scuba diving.
more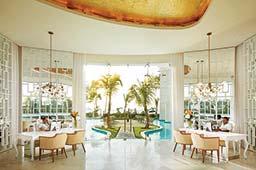 Norman Manley Boulevard
West End, Negril, Jamaica
Azul Beach Resort Negril by Karisma is located on Negril's world-famous Seven Mile Beach. Beachfront suites are just steps from the ocean. This Gourmet Inclusive property boasts 18 lively restaurants and bars, a world-class spa, countless pools with swim-up bars, and a picture-perfect, crystal-clear ocean with water sports and activities along the shore. Guests can indulge in everything from local delicacies and specialty rums to private candlelit dinners on the beach. ALL-INCLUSIVE/MEAL-PLAN PURCHASE IS MANDATORY; IT MAY BE BASED ON A 7-NIGHT STAY AND MAXIMUM OCCUPANCY.
more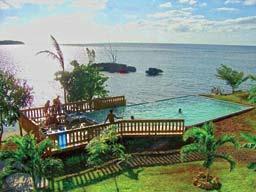 Rhodes Hill Plantation
Hanover, Jamaica
Rhodes Resort Jamaica is an eco-friendly oceanside resort located in the northwestern coastal town of Green Island. Comfortable, air-conditioned units offer partial or full ocean views. Amenities on-site include snorkeling, horseback riding, and exploring a nature and crocodile reserve. Wireless Internet access and use of a cell phone are available. The purchase of an all-inclusive meal plan is optional and payable to the resort.
more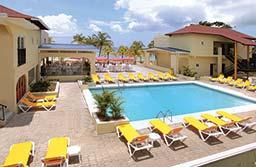 Norman Manley Boulevard
Negril, Westmoreland, Jamaica
Rooms Negril faces the Caribbean Sea on Seven Mile Beach, which is famed for its powdery white sands and spectacular sunsets. Accommodations include oceanfront rooms. On-site are amenities such as a swimming pool, a restaurant and bar, a fitness center, and an Internet cafe. The resort is a convenient base from which to enjoy such popular Negril hotspots as Rick's Cafe and Alfred's Ocean Palace and is within walking distance of other restaurants, boutiques, and 24-hour gift shops.
more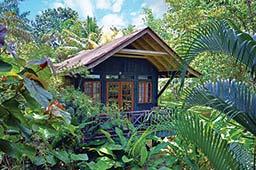 Norman Manley Boulevard
Negril, W.I. Jamaica
Sunset at the Palms Resort is located in Negril amid a 10-acre (4 hectares) tropical garden. Accommodations are tree house-style guest rooms decorated with warm wood tones and Asian-inspired furnishings. Soak in the poolside whirlpool spa, have a cool drink at the swim-up bar, try various water sports, and enjoy dining at three restaurants and bars. Other amenities include spa services, a fitness center, tennis courts, and Internet access. The resort also offers nature walks, cooking classes, and movies under the stars. ALL-INCLUSIVE/MEAL-PLAN PURCHASE IS MANDATORY; IT MAY BE BASED ON A 7-NIGHT STAY AND MAXIMUM OCCUPANCY.
more
(Rows 1-5 of 5) First | Previous | Next | Last