San Francisco Resorts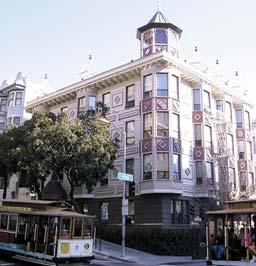 710 Powell Street
San Francisco, CA, 941082207 United States of America
San Francisco Suites offers guests a vacation with an urban flair, in the prestigious Nob Hill section of the "City of Seven Hills." Among San Francisco's extensive attractions are Fisherman's Wharf, Ghirardelli Square, Chinatown, Golden Gate Park and Bridge, and colorful Victorian mansions. A concierge at the hotel is available to assist guests with services such as entertainment, tours, and limousine or airport shuttles 24 hours a day.
more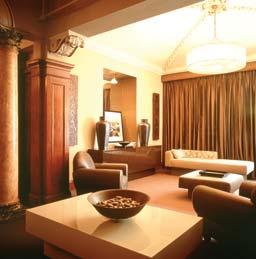 952 Sutter Street
San Francisco, CA, 941098412 United States of America
This historic building offers fully furnished studios in downtown San Francisco just blocks from Union Square. Located in a residential neighborhood and within walking distance of many sites and attractions, the hotel is also convenient to public transportation. All studios have a full kitchen, bath, and comfortable living room. Amenities include complimentary wireless Internet, local phone service, and cable television. Laundry facilities are on-site, and an outdoor patio with gas grill is also available for guests' use.
more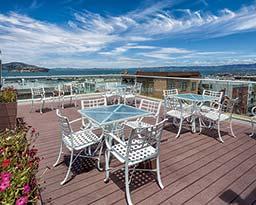 2655 Hyde Street
San Francisco, CA, 941091249 United States of America
Vacationers will love the view from the resort's rooftop deck: a panorama featuring Alcatraz, Sausalito, and the Golden Gate Bridge. The spacious, renovated accommodations include limited kitchens. Complimentary Wi-Fi access and a business center are available on-site. Located just one block from Ghirardelli Square, The Cannery, and a short walk from Pier 39, the Suites are conveniently located to other attractions, too, with a cable car line just outside the door, as well as major bus lines that connect with North Beach, Chinatown, Union Square, the Financial District, and the Golden Gate Bridge.
more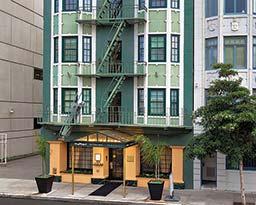 333 Fulton Street
San Francisco, CA, 941024423 United States of America
Inn at the Opera is located in the world-famous San Francisco Civic Center area, which is home to six performance houses. Accommodations are decorated with European-style furnishings and have limited kitchenettes. On-site amenities include a restaurant and bar. Enjoy the splendor of the city's opera, symphony, and theater, browse galleries, and dine in intimate bistros surrounded by a wealth of culture. The resort is conveniently situated close to some of the finest activities San Francisco has to offer such as dining, sightseeing, and shopping.
more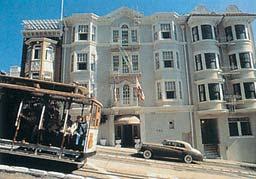 730 Powell Street
San Francisco, CA, 941082207 United States of America
Situated in the prestigious Nob Hill section of the city, Powell Place is a charming four-story Edwardian building near the Union Square district. Guests will enjoy the comfort of a graciously appointed suite, with front desk service available 24 hours a day. Powell Place is surrounded by everything that makes San Francisco special. Visitors have access to many attractions by boarding a cable car less than a half-block away. Chinatown, with all its intrigue and mystery, is within an easy walk, as are some of the city's finest specialty stores and restaurants.
more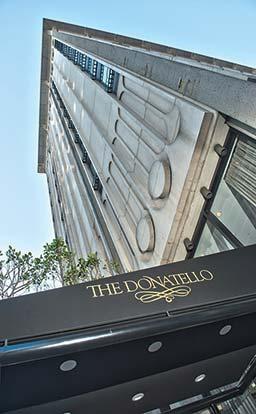 501 Post Street
San Francisco, CA, 941021228 United States of America
Club Donatello and Shell Vacations Club at The Donatello is located one block from Union Square, within a short walking distance of world-class dining, theater, galleries, museums, and performing-arts venues. The oversized guest rooms come equipped with free Wi-Fi access, safe, and LCD TV. The resort features a health club, sauna and spa, restaurant, and concierge services to help plan activities. Public bus transportation is easily accessible, and auto rental is nearby and can also be arranged through the resort.
more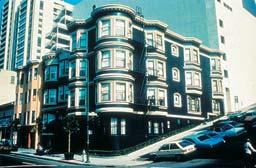 1000 Pine Street
San Francisco, CA, 941095032 United States of America
Vacationers can experience the elegance and style of San Francisco at Nob Hill Inn. This resort has been a center of comfortable living in the last half of the 19th century and home to railroad tycoons and successful gold miners. It is within walking distance of nearby downtown attractions - Grace Cathedral, Union Square, the financial district, and Chinatown. Other attractions include the cable cars, Fisherman's Wharf, Twin Peaks, Ghirardelli Square, and the Golden Gate Park and Bridge.
more
(Rows 1-7 of 7) First | Previous | Next | Last