SAN JUAN Resorts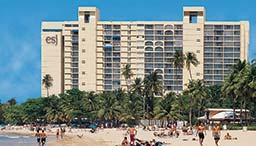 6165 Isla Verde Avenue
Carolina, PR, 00979 United States of America
Azul ESJ Collection is located directly on the Atlantic Ocean adjacent to the El San Juan Hotel & Casino. Enjoy the beach, Olympic-sized swimming pool, Wi-Fi access, gymnasium with sauna, billiard room, minimarket, cocktail lounge, and more. Tennis courts, international restaurants, and a casino are available at the adjacent hotel. Azul ESJ Collection is a five-minute drive from the airport and close to sightseeing attractions of Puerto Rico's historic capital city, Old San Juan.
more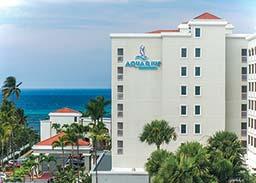 201 Dorado Del Mar Boulevard
Dorado, PR, 006462344 United States of America
Aquarius Vacation Club at Dorado del Mar Beach Resort's magnificent beachfront location is less than 2 miles (3.2 kilometers) from downtown Dorado, with easy access to the San Juan metropolitan area. The resort features in-room Wi-Fi, whirlpool, sundeck, fitness center, game room, and outdoor lagoon pool overlooking the beach. On-site dining is available at Paradise Cafe, Blue Sea Horse Bar & Grill, Orient House Sushi Bar, and Teppanyaki Grill. Lounge in the sun, drink piña coladas, and get away from the city's hustle and bustle.
more
(Rows 1-2 of 2) First | Previous | Next | Last