Turks & Caicos Islands Resorts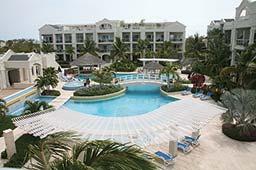 Governor's Road, Leeward
Providenciales, Turks and Caicos Islands
Nestled in the Leeward community, The Atrium Resort offers a tranquil tropical setting. Accommodations are non-smoking suites with courtyard, garden, or pool views. Each unit features air-conditioning, a fully equipped kitchen, washer/dryer, satellite TV, Wi-Fi, an iPod docking station/alarm clock radio, a safe, celling fans, an iron and ironing board, and cotton linens. Amenities on-site include a cafe, a gym with state-of-the-art equipment, and a large heated pool.
more

Lower Bight Rd
Turtle Cove,providenciales, TCKA 1ZZ Turks and Caicos Islands
A delightful hideaway situated amid 3.5 acres (1.5 hectares) of lush hillside terrain, La Vista Azul Resort offers beautiful views and is within walking distance of the island's oldest and largest marina at Turtle Cove. Comfortable studios and one-bedroom suites have Wi-Fi and air conditioning, and an outdoor swimming pool is on-site. Spend a day at the popular Grace Bay Beach, located less than 5 miles (8 kilometers) from the resort, or enjoy area activities such as boating, golfing, and scuba diving in the crystalline waters.
more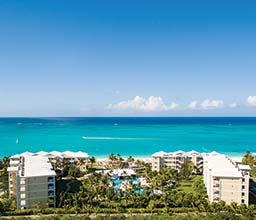 Princess Drive
Grace Bay, Providenciales, Turks and Caicos Islands
Alexandra Resort is on Grace Bay Beach, just 15 minutes from the airport. Accommodations are studios with kitchenettes, and one- and two-bedroom suites with kitchens, and decks or balconies. Enjoy the resort's swimming pool, exercise room, Elevate Spa, tennis courts, and Caicos Dream Tours. Use of bicycles, Wi-Fi, non-motorized water sports, and the dining shuttle to sister properties, Beach House and Blue Haven Resort, is complimentary. The restaurant, Asú on the Beach, is open daily, offering room service and beachfront dining. A 24-hour front desk and friendly staff provide attentive service.
more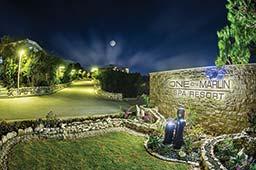 38 Marlin Street
Providenciales, Turks and Caicos Islands
One On Marlin is a minimalist sanctuary for singles and couples who yearn for a relaxing island vacation. Located in Providenciales, the resort provides a quiet retreat, yet is close to all the area hot spots. Enjoy the private Beach Club on Grace Bay Beach, which offers chairs, umbrellas, stand-up paddleboards, boating, and beverage services. Dedicated butler service is just a call away with suite-equipped cellphones.
more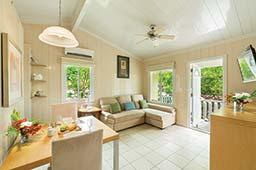 31 Downwind Street
Providenciales, Turks and Caicos Islands
Kokomo Botanical Resort is located near Grace Bay Beach, nestled within lush tropical gardens on a hillside overlooking the stunning waters of the Caicos Bank. Discover your home away from home in the charming, fully equipped Caribbean cottages. The resort offers an outdoor swimming pool, hot tub, and spa, and a variety of activities are available in the area. Dedicated butler service is a phone call away.
more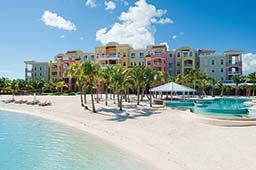 Marina Road
Providenciales, Turks and Caicos Islands
Blue Haven Resort lies at the northeastern tip of Providenciales in Turks and Caicos. Accommodations have flat-screen HD TVs and Wi-Fi. Amenities on-site include a state-of-the-art marina, Elevate Spa, Fire & Ice restaurant, Salt Bar & Grill, and Market cafe and grocery store. In close proximity to ideal water-sports locations, the resort offers a playground for outdoor adventurers. Just steps away are exceptional spots for scuba diving, bone- and deep-sea fishing, kitesurfing, stand-up paddleboarding, kayaking, and other eco-excursions in the nearby mangrove forest.
more
(Rows 1-6 of 6) First | Previous | Next | Last