VIENNA Resorts
Josefstaedterstrasse 22
Vienna (wien), 1081 Austria
Situated directly next to the Theater in der Josefstadt, the Cordial Theaterhotel Wien is close to the world-famous Ringstrasse boulevard, which encompasses the historically impressive Old City of Vienna. Sights such as the Parliament, Hofburg, St. Stephen's Cathedral, and numerous museums are not to be missed. Just like Vienna itself, the resort offers a charming combination of modern comfort, warmth, and coziness, with a traditional flair. Interval members will be accommodated in double rooms and one-bedroom "Theatre Suites."
more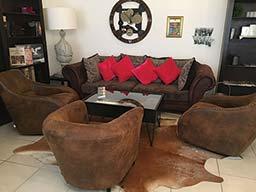 Hauptstrasse 42
Himberg, 2325 Austria
The aparthotel is situated in the heart of Himberg, close to restaurants, bakeries, and supermarkets, and is a 20-minute train journey from the charming city of Vienna. Units feature a living room, kitchen, coffee machine, and flat-screen TV; and make a perfect base for exploring the neighboring Austrian capital. Golf Club Gutenhof, with its two championship parkland courses, is 1.2 miles (2 kilometers) away.
more
(Rows 1-2 of 2) First | Previous | Next | Last