Waimea - Big Island Resorts
68-1745 Waikoloa Road
Waikoloa, HI, 967385532 United States of America
Located on the beautiful Kohala Coast, Shell Vacations Club at Paniolo Greens offers easy access to the Big Island's highlands. With its captivating mountain backdrop, this lush retreat is the stunning paradise that you've dreamed about - a place for romantic escapes, family vacations, reunions, and sport outings. Accommodations are fully furnished villas where you can relax on the lanai and enjoy the cool breezes and warm Hawaiian sun. Complimentary basic Wi-Fi is included. (High-speed Wi-Fi is available for a fee.) Play tennis, go swimming, and enjoy the hot tub and fitness center.
more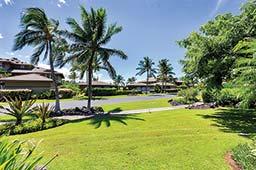 69 - 1029 Nawahine Place
Waikoloa, HI, 967385748 United States of America
Located at the famous Waikoloa Resort, Halii Kai offers you the opportunity to relax and stretch out in a spacious, well-appointed, two- or three-bedroom villa and admire the stunning ocean views that surround you. You will enjoy the tropical breezes, warm Pacific sands, and pure refreshment of an oceanfront pool.
more
(Rows 1-2 of 2) First | Previous | Next | Last